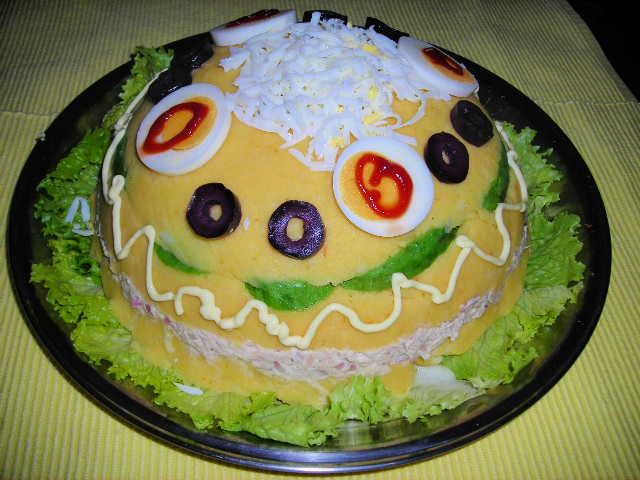 More about the causa...
There are so many variations on this dish. Causa rellena con atun (tuna), causa filled with shrimp, causa filled with crab meat, causa filled with chicken...etc, etc, etc...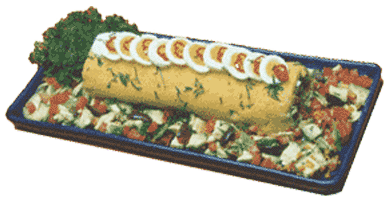 The causa that I ate had different colors of potato layers - the bottom layer was green, but the flavor was the same as the other layers, so I'm guessing that a small amount of avocado was mixed with the mashed potatoes to add the color. The middle layer was yellow, and I'm sure they used a bit of yellow pepper paste to color it. The top layer was orange - I think they may have used tomato sauce or red pepper puree to color that layer.
I found a recipe for causa filled with tuna, but the fillings are really very eay to change out. Suggestions for filliings are at the bottom of the recipe:
CAUSA DE ATUN / Tuna Fish Potato Loaf
Ingredients :
2.2 lb (1 k) potatoes (yellow, if available)
1/4 cup oil
Juice of 2 key limes
Salt
Pepper
1 tablespoon ground aji amarillo fresco / fresh yellow aji (chili)
1.1 lb (½ k) fresh tuna fish or 2 6-oz cans of tunafish packed in oil
½ red onion, diced
2 tomatoes
2 sliced avocados
2 cups mayonnaise
Parsley
8 Spanish olives
2 hardboiled eggs
Optional: Red pepper, thinly sliced
Preparation:
Boil potatoes with salt. Peel and mash. Combine with salt, white ground pepper, key lime juice, aji and oil.
Mix tuna fish with mayonnaise and diced onion.
Spread potato mixture on a thin rectangular sheet of plastic. Spread the filling: top with tomatoes, sliced avocado and roll using the plastic to help form a round loaf.
Refrigerate for one hour, remove plastic and place on a serving dish. Garnish with parsley, chopped olives and hard boiled eggs, sliced avocado (with drops of key lime juice to prevent discoloring) and if desired, mayonnaise and red pepper slices.
Note: If canned tuna fish is used, season with key lime juice and chopped onion.
If fresh tuna fish is used, bake first with salt and ground white pepper.
Different fillings for Causa:
Avocado, mayonnaise, diced tomato and boiled diced eggs.
Avocado, mayonnaise, beets and boiled diced eggs.
Shrimps, mayonnaise, ketchup, drops of lime juice and ground yelow aji.
Crabmeat and mayonnaise.
Octopus in olive sauce.
Olives and mayonnaise.
6 servings