I have a new favorite food: conchitas a la parmesana. It's scallops on the half shell, with lime juice poured over them, and freshly grated parmesan cheese (not the boxed stuff) sprinkled over the shell to cover. Then they are broiled till the cheese is melted and lightly golden brown.
I also like choritos - steamed mussels on the half shell, covered with a mixture of marinated minced onions, tomatoes, cilantro, and lime juice, with a dash of salt.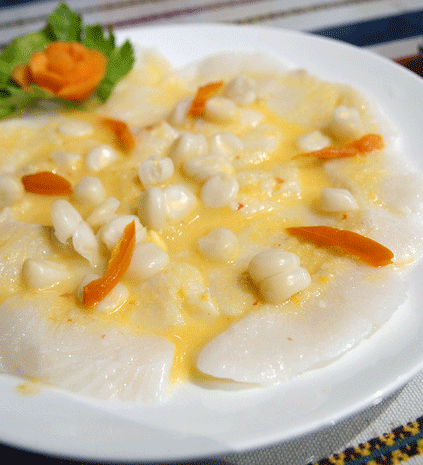 Today we tried a new food for lunch - tiraditos. Tiraditos are like sushi, a lot like ceviche. It is raw white fish, sliced thinly and marinated in lime and covered with a sauce based on hot peppers and vinegar. Garnished with white corn kernels. It seems like a very simple dish, but wow, is it good.