Last week I had a birthday. I celebrate my birthday in a much different style than most people here in Peru. For my birthday, I prefer to forget about parties and have a quiet day. This year, both O and I were working, so there was no party planning on any one's part. O knows I don't go for parties, but his friends are pretty determined to take advantage of any excuse to have a fling. This year, thanks to my job, there was none of that. There was, however, a birthday lunch at some one's house.
Rosa and Flover live in Rimac, which is a very nice part of town, except for the smallish area where they live. Their neighborhood is SCARY. They have no car, and they live a little too far away from the market or the grocery store to walk, so we often give them rides to wherever they need to go. They repay the favors by making lunch occasionally, inviting us to barbecues, parties, and other events. I rarely go, but now it's understood that I just prefer a quieter lifestyle.
Anyway, Rosa insisted on a birthday lunch on the 2nd. Rosa is from the highlands and her taste in food is a little different than mine. My special lunch was actually Rosa's favorite: chanfainita, a typical highland dish.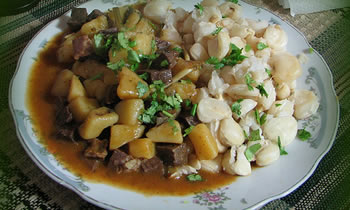 How does it look? Tasty, right? Chanfainita is stew, made from chopped potatoes and cow's lungs. Now, I know she went to a LOT of effort to prepare this delicacy, but there are just some things that I don't want to eat. Lung tissue is one of those things that I choose not to eat. I think Celeste would enjoy this stew immensely.
Luckily for me, there was plenty of picante sauce and a good bottle of dry red wine. If not for those, I couldn't have managed to eat any of it. Rosa would have been offended and I would have been embarrassed to pieces. So I poured on enough hot sauce to set the house on fire added handfuls of chopped mint, and washed it all down with judicious sips of wine. Everything ended quite well. I didn't ask for seconds, but Rosa felt well pleased.
On Sunday, O and I went to dinner at Club Sullana, where we had a fantastic steak cooked with annato oil and fried yuca and banana slices. Then we went to see "Ice Age 3" and went home.